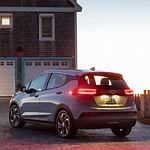 Electric vehicles are an increasingly popular option at CANTU CHEVROLET. Our team is constantly searching for newer and more efficient options in this exciting area. The 2023 Chevrolet Bolt EV has some exciting technology features that can help optimize your ride.
Driving an electric vehicle is already a significant win for the planet, but did you know that you can reduce your environmental impact even more with the right onboard technology? The Chevrolet Bolt EV features a Driver Information Center that provides reports of your energy efficiency while driving. Use the feedback to reduce your energy use, or host a fun competition with family and friends to honor the earth.
While you're celebrating, remember to bring the tunes. This electric is anything but a bare-bones box. The Chevrolet Infotainment 3 system can connect you with smartphone-fueled fun during a test drive in Freer.