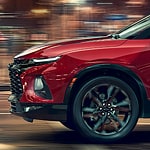 The 2023 Chevrolet Blazer is a new generation of the rugged Chevrolet SUV that was initially introduced in 1996. The 2023 Chevrolet Blazer is powered by a 3.6-litre, twin-turbocharged V6 engine that delivers 400 horsepower and 500 lb-ft of torque and is paired with an 8-speed automatic transmission.
The 2023 Chevrolet Blazer has all-wheel drive as standard. Its features include adaptive cruise control, lane departure warning, and forward collision alert with a pedestrian braking system that detects pedestrians in front of the vehicle and automatically applies brakes if the driver does not react in time.
This engine features an upgraded system for improved efficiency, including new cylinder deactivation technology to improve fuel economy by up to 15 percent over the current model. A nine-speed automatic transmission delivers power to all four wheels, and the ZF intelligence shift kit allows the driver to choose among three different modes: Daily, Sport and Sport+.