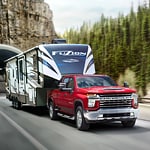 The Chevrolet Silverado HD is the kind of truck that everyone will see coming. With its big frame, bold colors, and dynamic performance, it'll take you around and through Freer with ease. It's also ideal for things like camping and off-roading across various types of wilderness terrain.
The utility features of the Silverado are designed to help you with your exploring. With a maximum payload of 7,442 pounds and the ability to tow up to 18,500 pounds, you'll always have the strength that you need to get the job done. Additionally, you'll be backed by eight cameras offering more than a dozen views to assist you with things like rear visibility, parking, and hitching.
The Chevrolet Silverado HD is available at CANTU CHEVROLET if you'd like to come and admire it for yourself. Whether sitting behind the wheel or marveling at it in a showroom, it's a serious truck for serious truck enthusiasts.